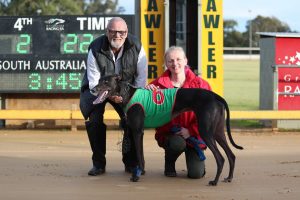 Gawler Greyhounds Friday 12th June 2020
It was a beautiful mild winter day on Friday. The racing was fast with a number of Greyhounds breaking the 23second barrier over the 400m during the course of the meeting. Race 5 was one of these with 1st, 2nd and 3rd all recording sub 23second finishes. The Open class race was always sure to put on a speed spectacle due to the quality Greyhounds running. The honours went to Black Kruger trained by Paul Bodsworth. Black Kruger jumped well from the awkward box 5 to take the lead ahead 2nd placed All out Crazy trained by Chairman of the Club Mike Wittholz. These 2 greyhounds had set the pace and it was only really in the last 50metres that you could see Black Kruger was going to win in the time of 22.72seconds, 3/4 of a length behind was All out Crazy in 22.77seconds and Ray Burgess trained Bangor Sophie in 3rd position in a time of 22.90seconds.
Race 9 was due to be the Gawler Breeders final where the heats had been run last week and was a race that was attracting a lot of interest due to the quality and that some of these runners will also feature in the Gawler Produce Stake heats and final to be run over the coming weeks. Unfortunately the boxes opened prematurely and the race was abandoned and will not be run now for the 2020 year. It would still be worth following these greyhounds as they are sure to show strong results in future races and as mentioned some of them will be seen in the heats for the Gawler Produce starting this coming Friday and the following Friday with the final to run on Sunday the 5th July.
With Covid 19 restrictions still in place but being eased we are hopeful to be able to welcome guests back to racing sooner than later. Please keep an eye out on our facebook page and the Bunyip for updates.