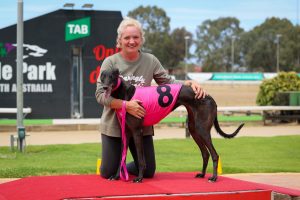 The recent heatwave experienced in SA has caused many cancellations and alterations to the greyhound racing schedule. A meeting at Gawler meeting was cancelled, and the Thursday night Angle Pk meeting was transferred to the unusual timeslot of a Saturday morning.
One of the Gawler track's normal supporters was Tamica Dunn, who landed a winner in the Mixed 4/5 Grade over 600m at the Angle Park meeting. Her runner, Tammy Parker, was able to lead for the whole journey from box 8, with a margin on the line of 1½ lengths to defeat a fast finishing Spring Kudu (2) for Troy Murray, with Dyna Alice (1) third for Shelley Trengrove, both of Lewiston.
Tamica was pretty happy after the race as it was her first win as a trainer in the better class Thursday night field, and she is also the owner. The black female was purchased by Tamica from NSW in August and this was the second win, plus several placings, while in her care.
Tamica is a third generation greyhound trainer, with her grandfather being a trainer in England, and in Australia her father also trained, before moving into thoroughbred racing. Always working around dogs and horses, Tamica found it easy to take up training herself, and has developed a property at Palmer with her partner Michael Stewart. With three dogs in her care, Tamica loves the dogs and enjoys the industry, and this win put a t of icing on the cake.
Gawler races every Tuesday and Friday afternoon, but please check for any changes to the schedule due to the heat.