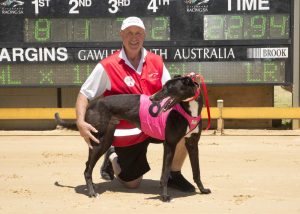 Tim Richards from Meningie is a regular visitor to the Gawler greyhound track, and on Friday he went home with another winner.
That win occurred in the Grade 4 event over 400m, which saw his runner Jervois Bruit, jump away brilliantly out of box 8, to lead Private Nangar (3) and Select Mick (1). Jervois Bruit extended his lead out to a comfortable gap of five lengths down the back straight, where Stir Crazy (7) and Select Mick started their run. That pair continued to run on together, but the leader was untroubled to go on and win by nearly two lengths, in a time of 22.94 secs. Second was Select Mick for Rosa Panagiotou of Evanston Gardens, with Stir Crazy finishing in third position for Mike Wittholz of Lewiston.
Jervois Bruit is not only trained by Tim, but he is also the breeder and owner. Tim bred the litter from Fabregas and Spicy Peppa, a female previously raced by Cameron Butcher, also from Meningie. It was the first litter that Tim has ever bred, and was he pretty pleased with the result, as all in the litter have won races. Jervois Bruit has only had 25 starts, but has tallied up seven wins and seven placings. The black dog has a bit of a liking for the Gawler 400 metre trip, winning four plus a placing from just six starts there.
Tim was first attracted to greyhounds three years ago, when he bought a dog with a few mates. He then decided to take the next step and became an owner/trainer, which was an easy transition for him as his father had trained thoroughbreds and had coursing greyhounds many years ago. Tim has now built up a team of sixteen greyhounds in work, plus some pups.
Having always loved dogs and having some as pets, the change from being a professional fisherman has been an enjoyable experience for Tim. In his quest to make it a success, Tim was very grateful for the "heaps" of help he has received from colleague Cameron Butcher, and also his son Bradley. It is all heading in the right direction for Tim as he is having his best year as a trainer, notching up 44 winners in eleven months, which is nearly double last year's full total, and has 88 placings as well.
Gawler races every Friday and Tuesday afternoon, so see you trackside for great racing and meals.