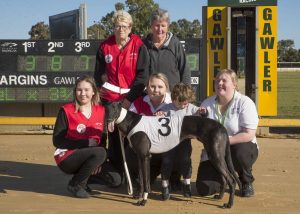 SHARYN STRIKES WITH A DOUBLE
On Friday afternoon at Gawler greyhounds, two heats of the Gawler Classic were run, with Lewiston trainer Sharyn Gray winning both and scoring her first double "for a long time".
In the first heat over the 531m journey, Double By Design from out of box 3 took the early lead, but was quickly tackled by Emerley Hummer (8), which then went to the front. The leading pair was well clear of the rest of the field, with Double By Design shadowing the leader. Approaching the 643m boxes, Double By Design made his move and took over the running as they turned into the home straight, recording a five length win in a good time for the youngster of 31.06 secs. Emerley Hummer was second for Judi Hurley of Moppa, with Stiff Upper Lip (7) third for Tony Hinrichsen of Monarto South.
The second heat saw Dulkaninna jump well from box 1, and establish an early lead over Szubanski Fury (7) and I'm Top Girl (6). Dulkaninna opened up a four length break over the pair, but entering the home straight, I'm Top Girl got a rattle on, and on the line grabbed the lead from Dukaninna, to win by just half a length in 31.30 secs. Dulkaninna was second for Narvette Treloar of Gawler River, with Miss Takiri (3) third for Ben Rawlings of Lewiston.
Sharyn trains and owns both dogs, which were bred from her former racer, Go You Girl, which was a "give away" and had trouble winning prior to Sharyn's training. Ending up with seven wins and 21 placings, mainly over the longer journeys, Sharyn decided it was worthwhile to breed from her, a task undertaken for her by Kiah Hurley. It resulted in a large litter, and Double By Design and I'm Top Girl are the first to race from that mating. They have achieved a total of nine wins and eight placings between them, from just 21 starts, which is an excellent rate.
Sharyn has a team of 15 racing dogs, plus some retirees and seven pups from the next litter from Go You Girl, in a sign of her confidence in the breeding. Sharyn likes the feeling of winning, which she said makes you want to keep racing, as well as the social side. She is very grateful for the help she receives from the members of the Hurley family and would "be lost without them."
The first four from each heat will now go into the Final next Friday, and with two runners now eligible, Sharyn 's dogs should play a big part in the result.
Racing is held at Gawler every Friday and Tuesday afternoon, so join us for great racing action and a meal, at the track.