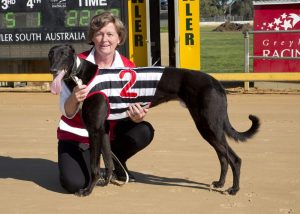 A LONG TRIP BUT WORTH IT
It might have been Friday the 13th, but it proved to be a good afternoon for Whyalla trainer Yvonne Maxwell, when she was able to lead in two winners at Gawler greyhounds.
Yvonne's first winner came in the first race of the day, a Maiden over 400m, when reserve runner Jimmy Peruzzi gained a start and was able to lead the whole journey from box 5, to defeat Mr Mufasa (8) trained by Colin Swain of Paralowie, and Raise The Bridge (4) for Steven Brook of Lewiston.
In race 3, a Juvenile event also over 400m, Yvonne's runner was Conner Peruzzi, which was away well from box 2, on equal terms with All Out Crazy (4). After a short contest, Conner Peruzzi was able to open up a length break over All Out Crazy, with Rouge (5) a further length away. These two runners were unable to make up ground on the leader, due to Conner Peruzzi setting a fast pace for a Juvenile event of 22.63 secs. All Out Crazy was second for Karen Wittholz of Lewiston, and Rouge finished third for Don Turner also of Lewiston.
Both Jimmy Peruzzi and Conner Peruzzi are from the same litter and are owned and trained by Yvonne. In addition, Yvonne bred the litter from her former racing female named Peruzzi, also owning and racing her litter sister named Temerity. This first litter has eight members, and all have now raced, with only one yet to win, which is a credit to the evenness of the litter and Yvonne's skill in rearing and training. Yvonne considers that Conner Peruzzi is the best of the litter as he has now won three in a row, taking his total to four wins and being unplaced only once in 14 starts. Yvonne just has this litter racing at the moment but is planning to breed with Temerity as well
Yvonne has been in the sport for over forty years, and treats it as a great hobby. With no greyhound tracks now in the north of the State, Yvonne is one of several trainers that have to travel a considerable distance to participate. Putting in so much effort and time means that you have to enjoy what you are doing. In Yvonne's case, she considers that a win is a good reason, but added that the best is when you can train a winner that you have bred.
To reduce the travel load, Yvonne often brings several greyhounds with her, and uses a local base, before returning home. As with most greyhound trainers, you need good reliable help and Yvonne is grateful for the assistance she receives from partner Jamie Sutherland. A win is good in Yvonne's eyes, so a double must be special, and make that effort feel really worthwhile.
Racing continues at Gawler every Friday and Tuesday afternoon, so join us for great racing action.